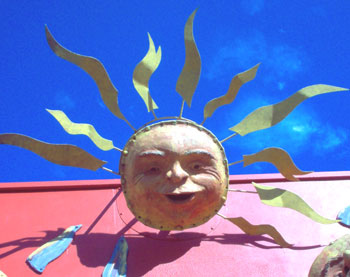 November 1998
This mural is a face of Bulleen Art & Garden.
It consists of an arrangement of substantial ceramic works set off and framed by a brightly coloured wall.
The central piece is a cluster of "sun" faces. These faces are the many diverse faces which contribute to the community surrounding Bulleen Art & Garden.
Dragons, fish, frogs and cockies also feature, representing the creatures in our surrounding environment, BAAG's place in the natural envronment.
And, it is intended to bring a smail to the many passers by.