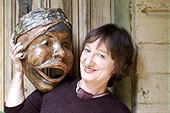 The creative possibilities of clay are fascinating and compulsive. Creatures with vitality, energy and personality can emerge from a lump of dirt. Ceramic sculpture is a means of expression and communication of ideas, emotions and, importantly, humour.
I first discovered the fascination of creating creatures from clay in 1989 after a career as a medical research scientist I am drawn to figurative, often humorous works. My frogs, dragons, people and other creatures seem to develop a life and energy of their own.
I have been working in my studio amid the treetops and down the road from Montsalvat since the late 1980s. I am partly self taught, but have worked with other ceramic sculptors, studied some art & ceramics. I have developed and sold my sculptures; taken part in many exhibitions; undertaken commissions including the Bulleen Art & Garden 3D mural; set up and run the Gallery and exhibition program at Bulleen Art & Garden; and run sculpture workshops.
Click here forMore information on exhibitions, education and experience
Click here for Newspaper articles
Save