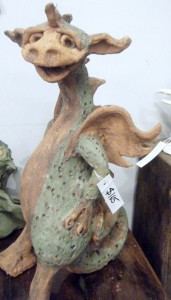 Ceramic Sculpture with Meredith Plain.
One Day Workshops for Adults
Ceramic Sculpture Workshop – Dragons and other creatures
To book, or find out current dates Click  Or, go to http://gallery.baag.com.au/?page_id=5
10am to 3pm
I hold One day workshops at Bulleen Art & Garden several times a year. These are suitable both for beginners or those wanting to extend their experience with clay to sculpture/ hand building techniques. Or to just have some fun.
Come and find out how to make dragons and other creatures  using hand-building and modelling techniques. Classes are flexible and you can also get some hints for other sculptures
I have been making, exhibiting and selling ceramic sculpture for nearly 25 years, and taking these workshops since 2000.
If you have a small group I can also organise a specific workshop for you, either at Bulleen Art & Garden, or I can come to you
Workshops are held in the classroom at Bulleen Art & Garden.
Numbers are limited to 10.
Cost $90, includes  1/3 pack Feenys Red Raku clay. Extra charge for firing
Below are images from previous workshops and examples of student work – most of whom had no experience with clay
March 2014
September 2013
July 2013
And Some Student work
And, from some earlier workshops
Save
Save
Save